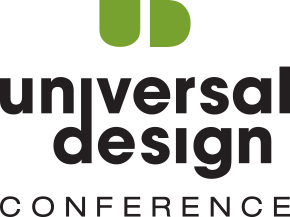 Mon 17 – Tue 18 May 2021
Victoria Pavilion
Melbourne Showgrounds
Centre for Universal Design Australia is delighted to bring you the 4th Australian Universal Design Conference. After the success of previous conferences we have set our sights across the wide world of universal design. This year the theme is, "Thriving with Universal Design: Everyone, Everywhere, Everyday". The theme provides opportunity for anyone working with or researching universal design and inclusive practice to contribute to this growing body of work. This conference comes with a promise to broaden delegates' thinking about the many ways universal design can be utilised and applied.
Universal design is a process of thinking and designing inclusively, whether it is a house, website, product, service, or a learning program. Universal design is itself explained in a diversity of ways across the world: "design-for-all" and "inclusive design" are other terms used. Designing universally means being inclusive of a diverse population. It is a process that enables everyone to participate in social and economic life regardless of age, background or level of capability.